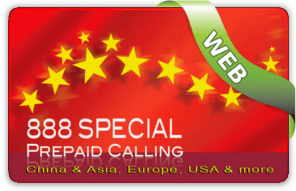 Phone Card 888 Special
Special rates for all destinations!
Special 888 is an international calling card offering reduced prices minutes without forgetting the quality of calls.
+3 Euros free with recharges of 10 Euros or more.
Do not hesitate and purchased easily and quickly, the Special 888 card. A card that gives you quality minutes in equal parts.
Secure Payment Guaranteed:



Rechargable CardCard with rewardsCard with speed dial
How it works?
With the 888 Special Prepaid Card you can make calls abroad at very low prices:
To use your card 888 Special:
First, you call the access number. Choose the number that best fits your needs.
Second, after calling the access number, wait until they ask for the PIN and enter it (the PIN number is the unique identifier of a card).
Third, after entering your PIN number, dial the number you want to call with your international access code. For example, in case you want to call France, would be 0033 + phone number.
Notice: The card will expire in 60 days from the first call.
Access numbers from Spain
From private fixed line
900 813 953

From mobile/ADSL
91 177 53 13

From a phone box
900 813 953

The private fixed line is the most suitable for use at home and / or phones without flat rate for national calls.
The fixed line with ADSL or a mobile is best suited for mobile flat rate for national calls (only charge the rate card).
Using your Prepaid Card you can make international calls or national from a phone booth without putting money.